I hate to use the word "toys", since some of the new stuff is not 100% safe.  I'll start out with the safer stuff.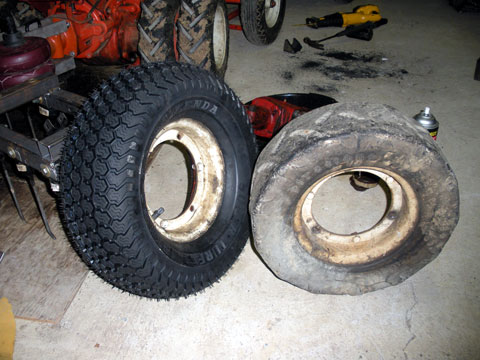 The one on the right is what I started out with.  A stock Gravely solid 16×4.5 8.  I decided to get a set of turf rubber, and wanted to try something a little larger than stock.  It took some finagling, but I finally got the new 18×8.5s mounted on the 4.5×8 rims.  See that Dewalt sawsall in the background?  I had to use that, a hatchet and a hammer just to get the old tires off the rims first.  Not too much cussing went on, but it wasn't easy either.  They give the C a little more height, a little higher top speed, and don't chew up my turf like the AGs.  However, with the higher center of gravity and narrower track (compared to the duals), I think I'll stay off the back side of the dam when these shoes are on.  That's not to say that slopes are out the question, I did use the next thing on some slightly less slope than the dam.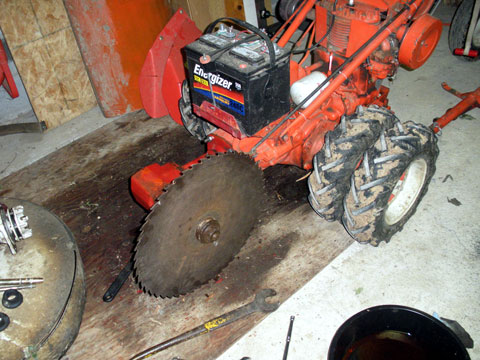 No, your eyes are not playing tricks.  That's an OEM setup, not a hack.  Gravely made a chainsaw and 18″ circular saw for these things.  I now have two.  I did see a couple chainsaws on ebay, but I'm not sure I really want one just yet.  However, the circular saw is pretty handy for clearing brush and flushing up stumps (up to about 5 or 6 inch diameter).  I was a little worried at first about using this setup, but it's not too bad.  You have to feed the saw into the work from the side, not strait in.  It's a grunt, but it gets the job done.  I have it configured in chop mode in the pic, though I have not tried it out like that in the wild.  For brush clearing you set it up so the saw is parrallel to the alxes.  Never, ever, leave the PTO engaged when you're not on the handelbars.  Period.  This will, without a doubt, cut a leg or two off and not even blink.  I'd have to say, this is probably the scarriest tool I currently have for the C.